Established experience with proven results
Praedium Agri Management is a highly experienced and successful specialist poultry production operations and management com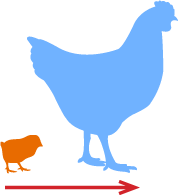 pany
With a passion for the poultry industry, underpinned by a strong focus on growth, sustainablity, and quality investment return, Guy Hebbelwhite, CEO heads the expert Praedium team which are able to deliver a framework of opportunities and a host of solutions to support the success of Australia poultry producers and local and offshore Agri-investors.
With proven management capabilities, running day-to-day operations of large scale broiler farms and drawing on existing systems and procedures that have been developed on the ground, Praedium Agri Management provides tailored and unique construction and management platforms. Praedium Agri Management delivers solutions and exceeds investor expectations in one of Australia's most dynamic growth industries – poultry
Harnessing extensive knowledge, experience and resources, Praedium Agri Management has the capacity to generate higher than average returns through its distinctive model, which partners its asset management capabilities with sophisticated investors and the on-the-ground experience of world-class operators.
Praedium's Mission is to:
Provide professional Agri-asset management services for significant investors in the Australian Poultry meat industry
Achieve optimal returns for investors
Manage poultry assets for longer term sustainability
Increase the market opportunities for professional investment in poultry meat businesses
Provide rewarding careers that allow personal development for all employees
Learn More